Ashgrove - Please join us Tuesday, April 11, from 5:00-6:30 for a NUMBERS & NACHOS Title 1 Math Make-n-Take Family Night. Make your own nachos, taco or burrito from our Mexican buffet and then visit a station (or 2 or 3) and make a Math game to play and take home. It's our final event of the school year and one of the best! Look forward to seeing you on April 11!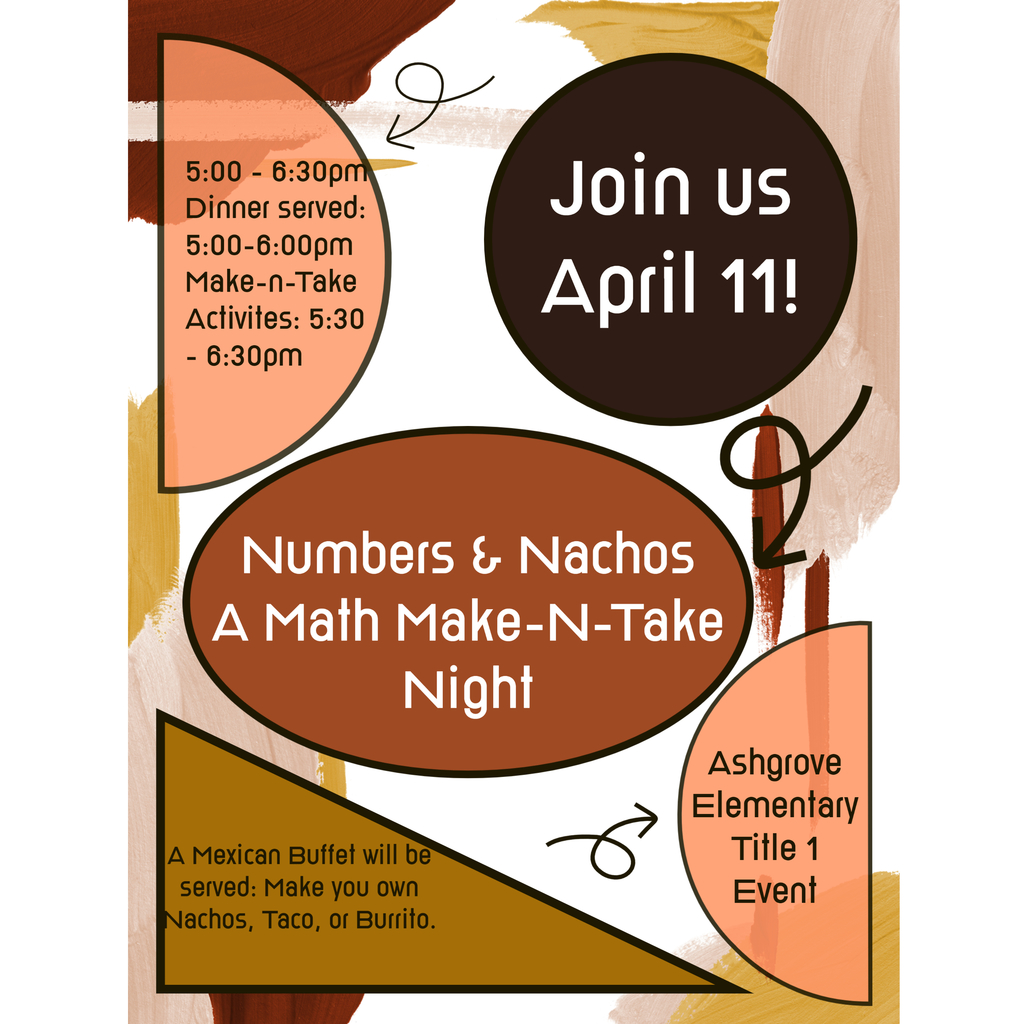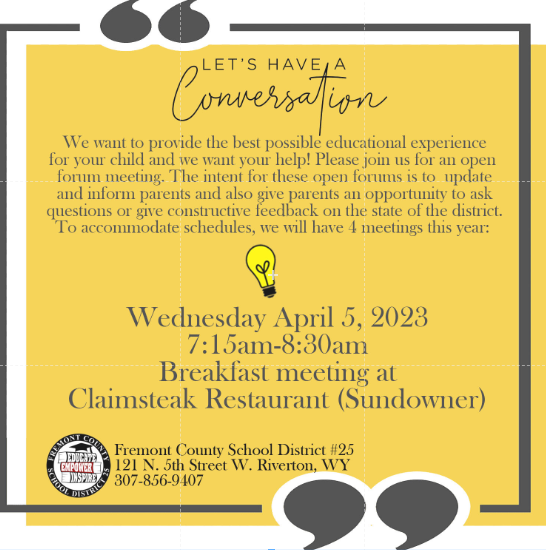 Hope to see you there!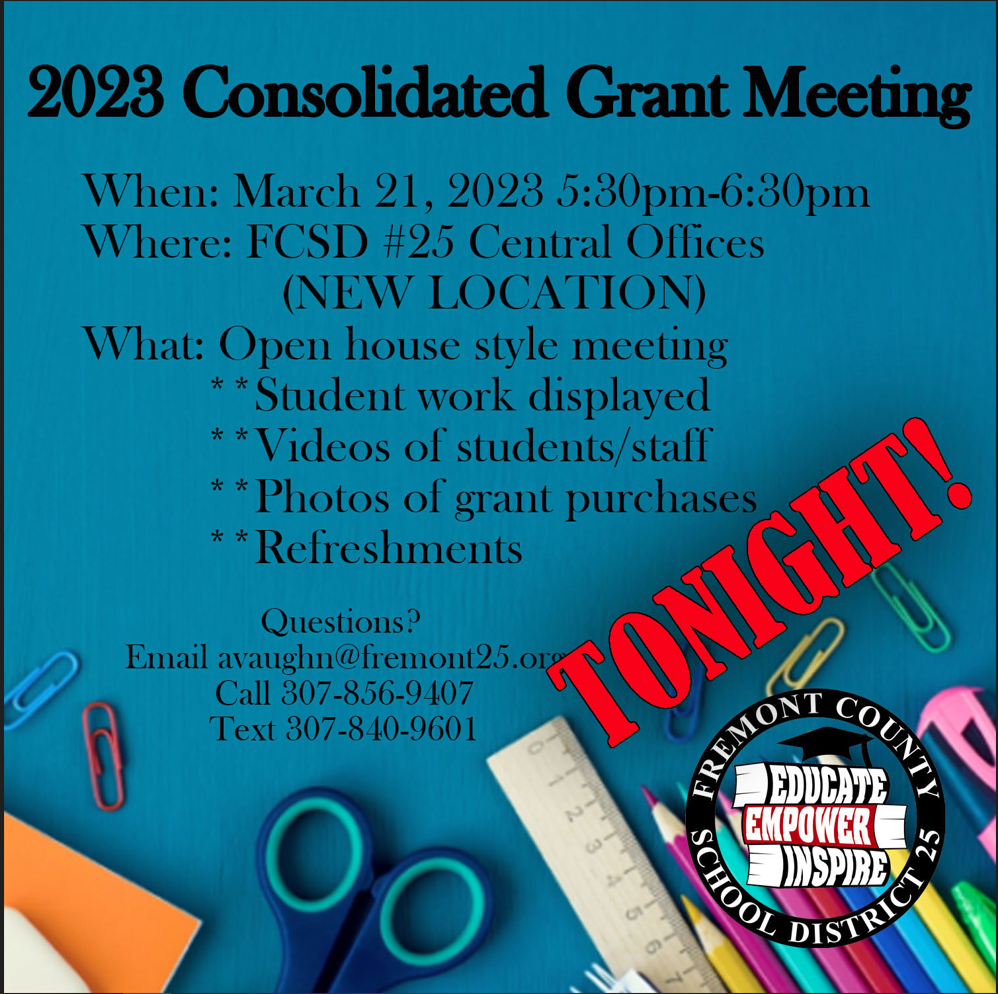 Title VI would like to invite our native students and families to our Title VI pasta and paint night. Come join us from 530pm to 830pm at Riverton Middle School. We will serve Chicken Alfredo and have a follow along paint instructional led by Darious Tillman. We can only accept the first 50 participants so please rsvp to Tianna Wagon:
tiwagon@fremont25.org
or Kyle Quiroz:
kquiroz@fremont25.org
. We hope to see you there."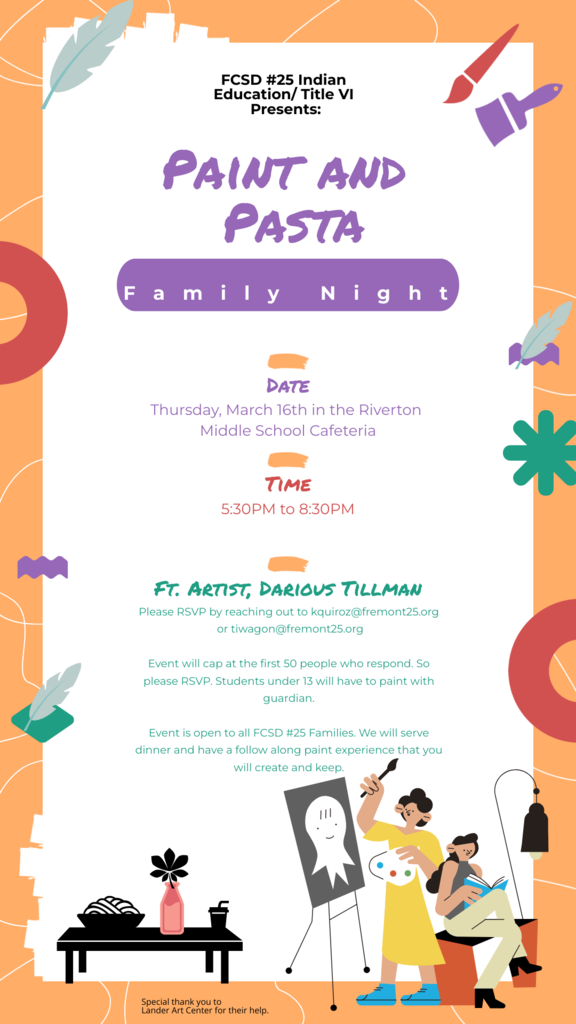 Check out this fun opportunity!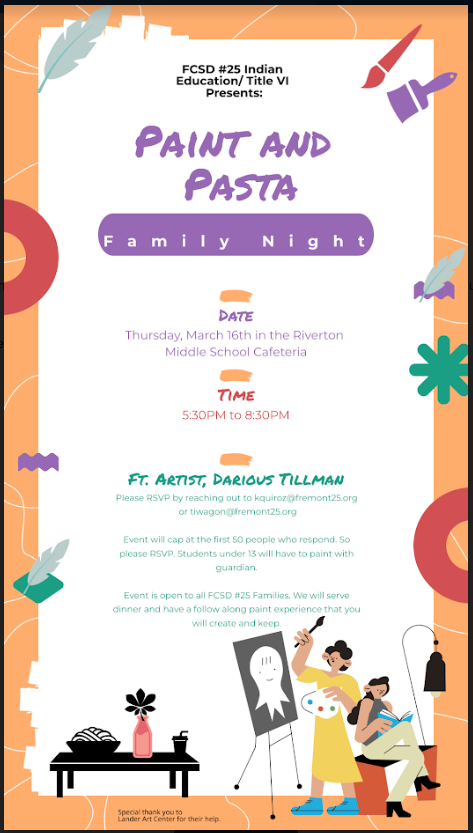 Ashgrove 3rd grade parents - the Fine Arts Night/concert needs to be postponed from this Tuesday due to an unavoidable conflict. We apologize for the late change of date. The new date is Tuesday, March 21 at 6 pm. Please look for a new flyer coming home tomorrow.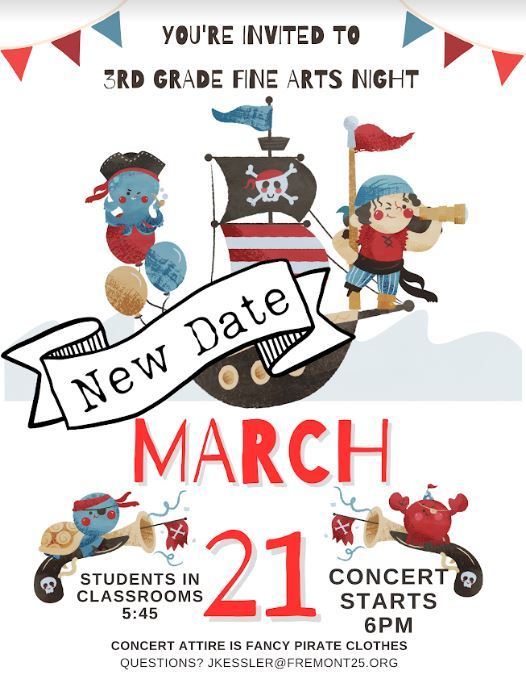 Please join us on Tuesday, March 14, from 3:15pm - 4:00pm as we discuss all things Ashgrove!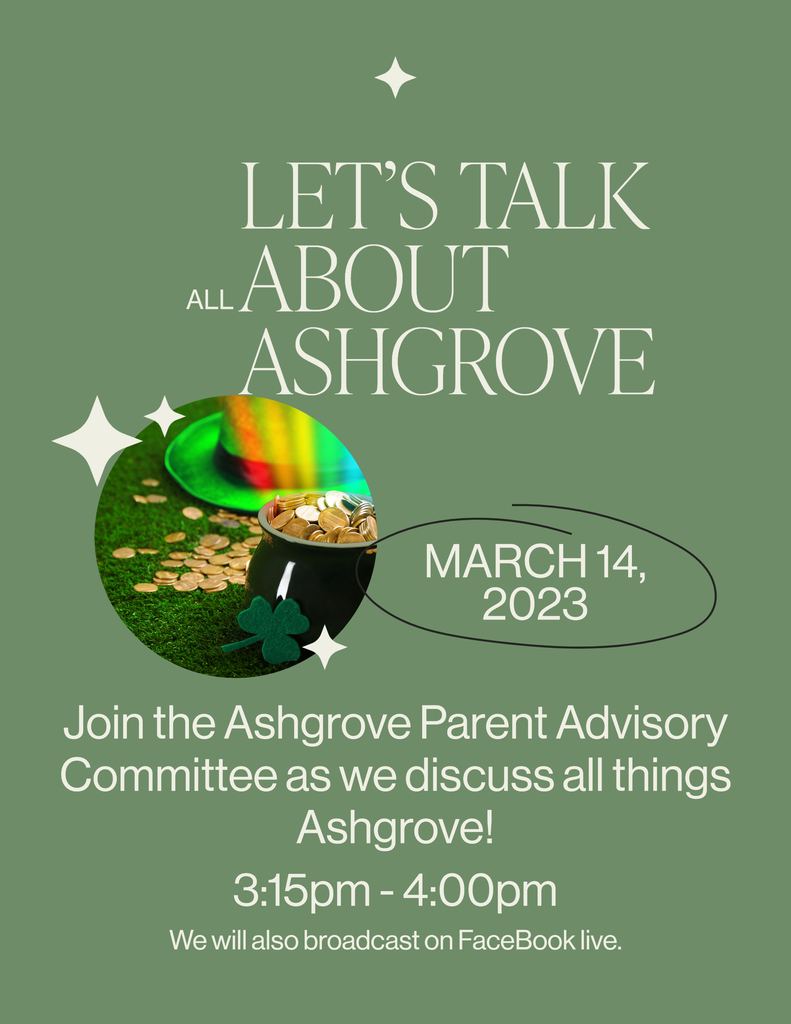 We are seeking input from the parents of FCSD#25 elementary students regarding a change to our grading periods at the elementary level. Thank you for your time responding to the survey.
https://forms.gle/VmfJpcZzV5MZWi4GA
With the adjusted schedule this week, this not may note have reached home this week. Next week is Dr. Seuss Week (dress up days) and COIN WARS. Please the attached images to see the fun we have planned!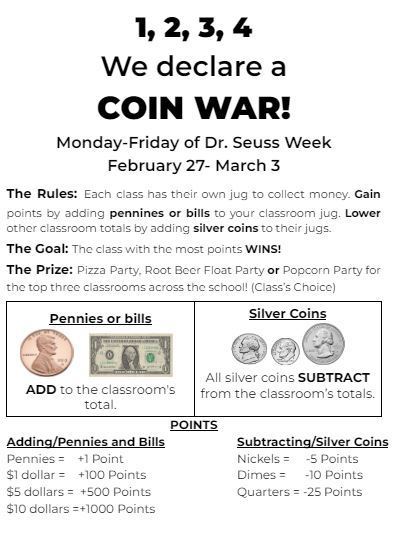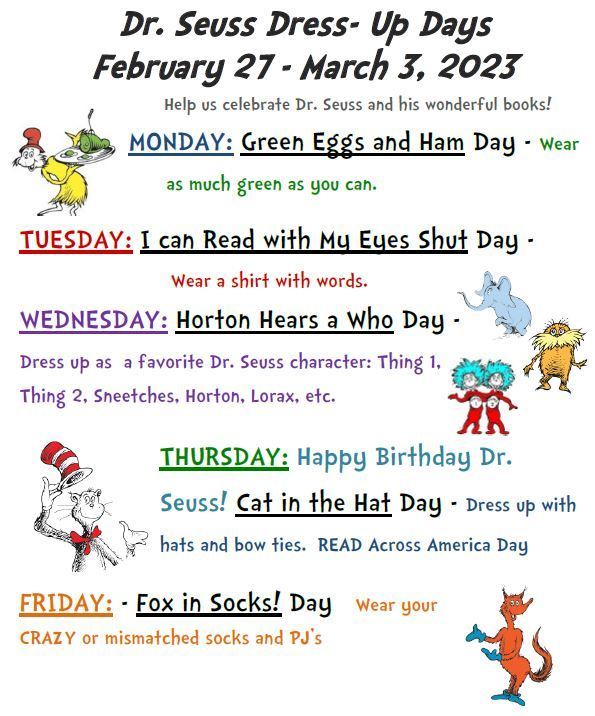 Reminder there is no school tomorrow (2/24/23.) Have a great 3 day weekend!

Rescheduled event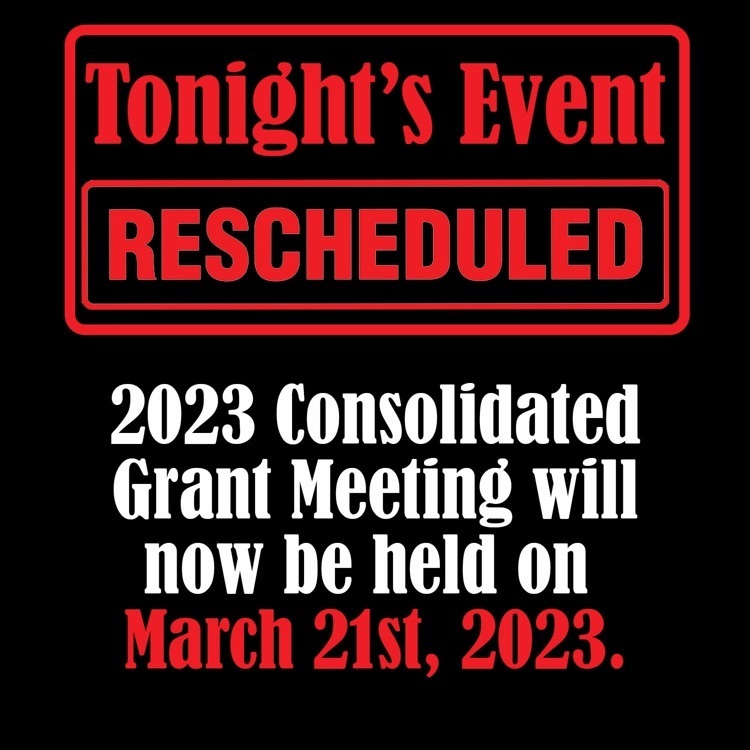 In preparation for tomorrow's late start, please know the bus routes will run 3 hours later than normal. Ashgrove's doors will open for drop off at 10:45. School starts at 11:00; 1st Lunch at 11:35, 2nd lunch at 11:40, 3rd lunch at 12:05; Dismissal is at 3:00.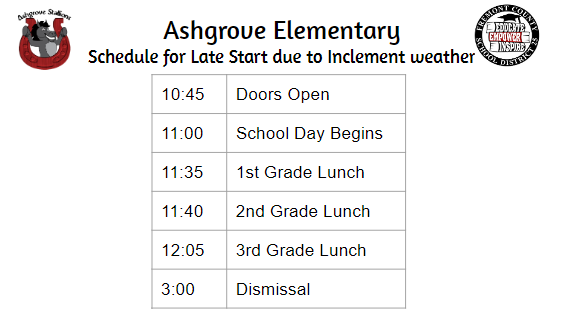 FCSD #25 has called for a Virtual Learning day Wednesday, February 21. Students and staff will stay home and safe! Student work was sent home as packets for Ashgrove students - we will not be sending Chromebooks. If you have questions, please reach out to your student's teacher on Dojo or email. An email was also sent out earlier today to parents. Here is Ashgrove's plan incase you did not get the email.
https://docs.google.com/document/d/1dIZNGlyNkhX-GSu_TcEj3kTFNuoQo9LypLr2oDyj1zA/edit?usp=sharing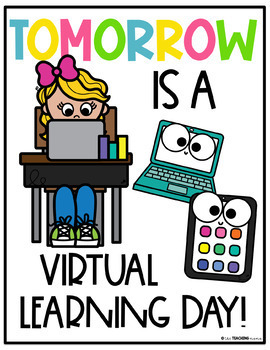 Event Postponed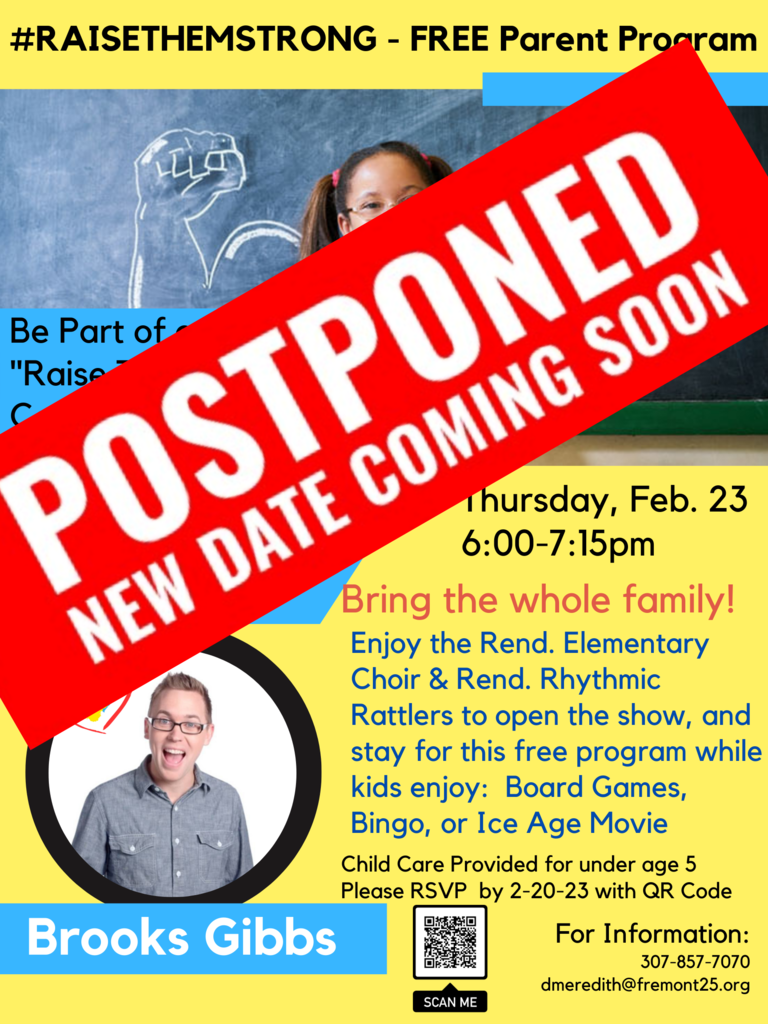 We are close to ending our Kids Heart Challenge event. Students who raised $100 or more will get to color blast Miss Cree or Principal Hernandez. The final day for collecting funds is February 10th. Checks should be made out to American Heart Association. Please find your child's class b elow for the day to return their money envelopes: February 6 - Opsal, Olson February 7 - Berg, Newberry February 8 - Surratt, Pollard February 9 -Lobatos, Johnson February 10 - Wadsworth Our students are close to raising their goal of $3,500. As of today, we are at $2,730.39. Thank you Ashgrove Families for supporting the American Heart Association.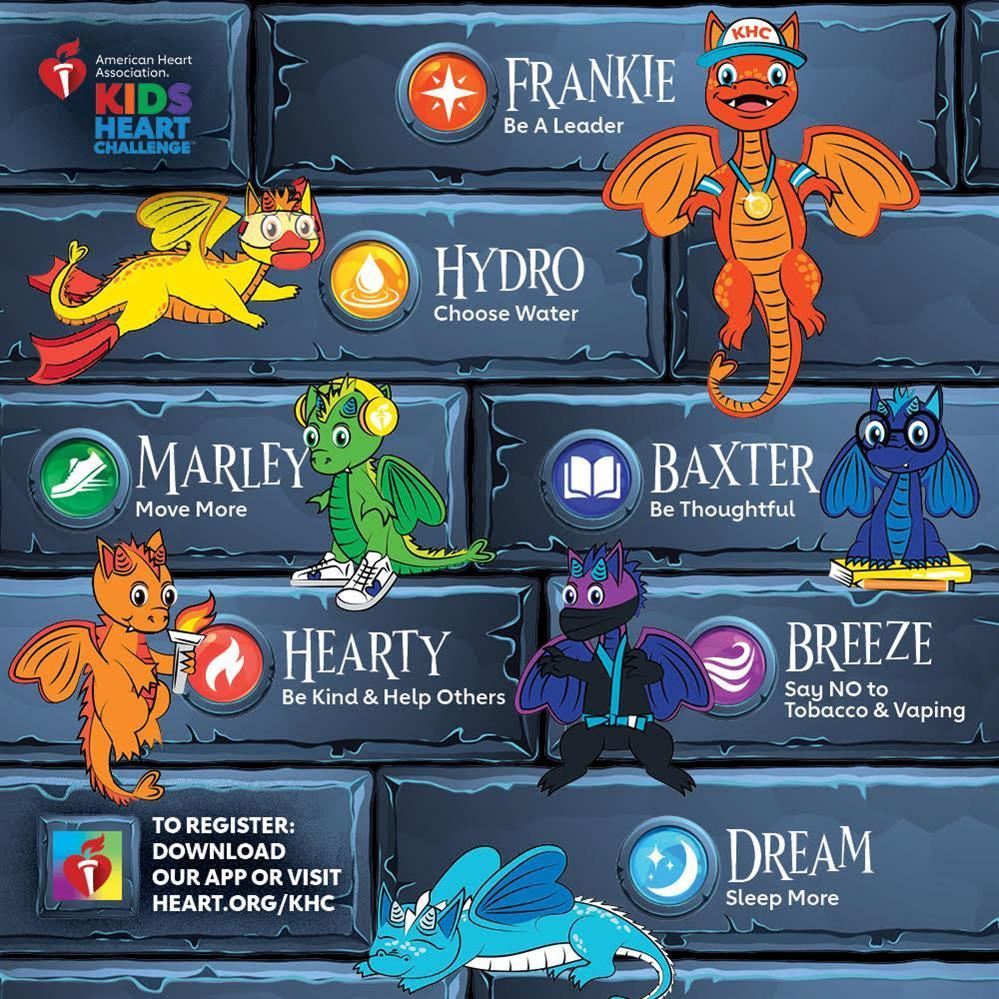 ​Join us on Thursday, March 2, 2023, from 5:30-7:00pm at Ashgrove Elementary to learn how to help your child have Health Energy. Wondering what sensory means? Take an individual survey and get strategies/activities specific to your child. Have a picky eater? Learn about oral sensory challenges & nutrition. Trouble with routines at home? Learn about executive functioning and get tips from the pros. Take away resources and ideas to use at home. This is a parent education event. Childcare will be provided free of charge for those in need. ​This event is provided for ALL parents of students attending: Aspen, Redezvous, Ashgrove, Jackson, and Willow Creek.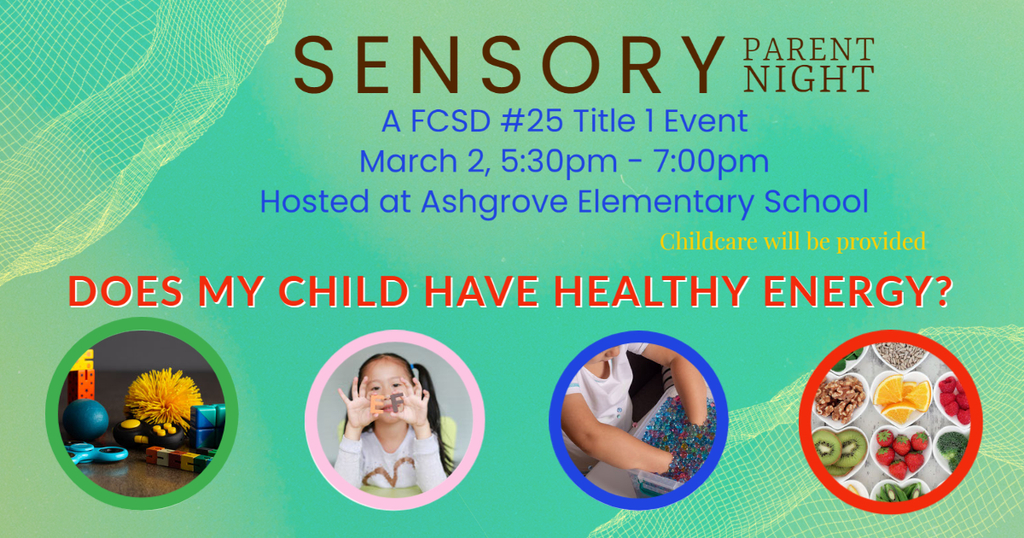 Eat Pizza. Raise 20%. It's just that cheesy. Have a pizza night Wednesday night (January 25th) and help Ashgrove PAC raise money to purchase items for our school. Either mention the fundraiser or show them the coupon. Enjoy dinner and know you're helping Ashgrove too.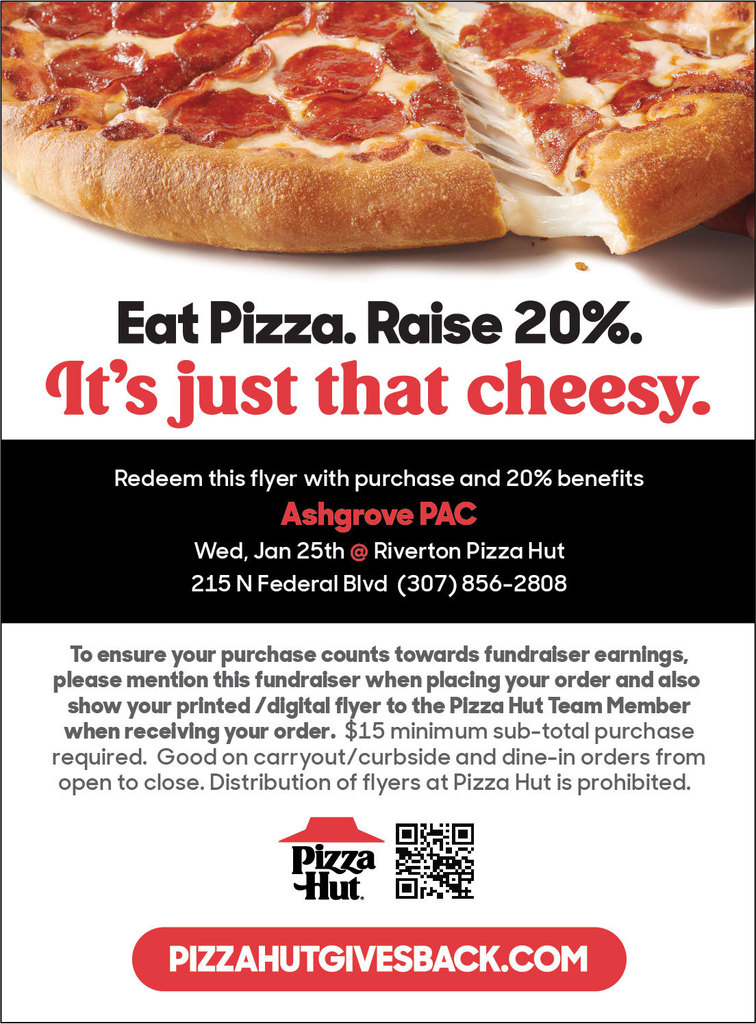 Ashgrove: Just a reminder that tonight, January 19, from 5:30-7:00pm, we will be hosting BINGO for Books. BUNK'S BBQ is catering our event with pulled pork sandwich meal for everyone in attendance.

Ashgrove: Presenting BINGO NIGHT, a Title 1 Family Event. Thursday, January 19, 5:30-7:00pm, with dinner catered from BUNK'S BBQ. We will have a book of choice for EVERY BINGO winner! Hope to see you here.

Ashgrove: Just a reminder that the PAC Meeting is tonight, Tuesday, January 10, 3:15-4:00pm. We hope you join us in the library as we make decisions that positively impact your child's experiences a Ashgrove! We'd appreciate having your input.